Application Overview & Important Dates
2024 SUMMER ABROAD PROGRAMS 
Applications for the Summer Abroad program are submitted online.  A link to the application can be found at the bottom of this page.
Important Dates
Applications for Summer Abroad programs open: Friday, December 15, 2023 at 10:00 am  
Deadline to apply for France (FAH courses): Monday, January 15, 2024 at 5:00 pm 
Deadline to apply for all other Summer Abroad programs and awards offered through Woodsworth College is: Thursday, February 1, 2024 at 5:00 pm 
A $200 application fee must be submitted. Late applications will be accepted only as time and space permit. 
Students may apply for up to two Summer Abroad programs, but must submit a separate application and $200 fee for each. 
Note: Woodsworth College reserves the right to cancel programs or courses for any reason, including low enrolment or health and safety concerns. 
Admission Criteria
Admission to Summer Abroad programs is competitive (decisions are not made on a first-come, first-served basis and there are not necessarily spots for all applicants).
Please also refer to the eligibility requirements for Summer Abroad. 
Applicants will be assessed on the strength of their overall application including:
Academic record over the past 12 months
Relevance of the course to the applicant's program of study
Personal statement addressing specific questions (which will be listed in the application)
Additional responses to questions regarding adaptability
Note that Woodsworth College may request additional documents in certain cases. Admission notification will be issued for most programs in mid-March to early April.
Wondering how to apply for a U of T Summer Abroad program? In this 8 minute video, a Summer Abroad work study student reviews the application process step-by-step.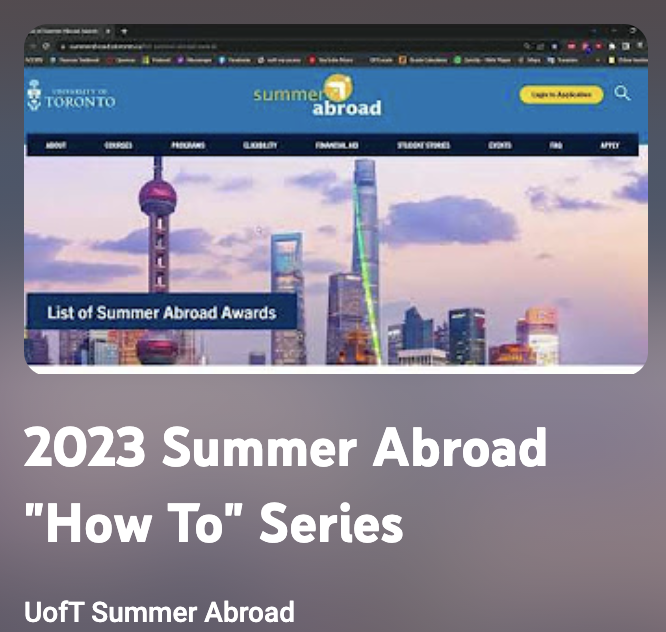 Summer Abroad "How To" Series
Watch these short videos to guide you through the Summer Abroad Application process. Videos include:
How to Research your Summer Abroad Options
How to Apply for Summer Abroad
How to write your Summer Abroad personal statements